BUSINESS CLASS M2 106
All Wreckers
Tap photo to enlarge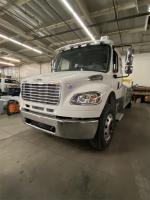 FREIGHTLINER BUSINESS CLASS M2 106
Contact for Price
All Wreckers
VIN: 1FVACXFCXRHUW6706
Year: 2024
Make: FREIGHTLINER
Model: BUSINESS CLASS M2 106
Availability : Available
Stock Number: 100102024
Status: New

A/C Condition New
Air Conditioning Yes
Axle Single
Cab Extended Cab
Collisionmitigationsystem No
Color White
Cruise Control Yes
Driver Position Left Hand Drive
Dual Breathers No
Dual Exhuast No
Fuel Type Diesel
Gross Vehicle Weight 33000
Gross Vehicle Weight Rating Class 7
GrossvehicleweightUnit Pound
Hassleeper No
Heated Mirror Yes
Hours Meter Inaccurate 0
Lift Axle No
Mileage 2319
MileageUnit Mile
Navigation No
Num Speeds 6 Spd
Overdrive Yes
Power Locks Yes
Power Steering Yes
Power Windows Both
Super Singles No
Suspension Air Ride
Tilt Telescope Yes
Transmanufacturer ALLISON
Transmission Automatic
Turbo Yes
Wheel Base 230
WheelbaseUnit Inch
Wheels Aluminum

Freightliner M-2 EC L-9 Cummins 350HP. 1000lb Torgue. Cummins Exhaust brake.RDS-3000 Allison. Tractor Package. 3-piece Chrome. Visor, Dual 26" Hadley Air horns. Air Ride Cab. Air Ride Driver seat, Single Passenger seat. Rear Bench seat. Dual 50-gallon fuel tanks. Tilt wheel, Idle up, Cruise Control. AM/FM CD Player, USB, Bluetooth, Power windows, Power locks, Aluminum wheels. driver-controlled Differential Lock rear valve, 12,000lb front axle, with 12K front Suspension. 21,000lb Rear axle, 23K Air Ride suspension with Dump. 4.33 Rear axle ratio. 275/80R 22.5 MichelinTires.Aluminum Wheels.. Power heated Mirrors. Cruise control with switches. 28 LED Warning lamps &DATA Linked AM/FM/WB World Tunerradio with Bluetooth & USB Aux Inputs, (2) Speakers in the cab. AM/FM antenna mounted LH of the cab, (6) ign. controlled Extra Switches with ind. lights wired to a power distribution box with relays providing 20 amps to junction block & 1 CIRCUIT AT 30 AMPS. BW Tractor protection valve. Trailer hand control.brake valve and winch brake apply to the Steer axle. & service brakes when parked 38" CA 33,000lb GVWR

CENTURY MODEL 3212 CX 138" CA Body option. BOOM SPECIFICATIONS; Retracted 32,000 lbs.; Extended 12,000 lbs. Maximum Angle 36° Maximum Hook height 160" Maximum Reach past Tailboard at 30°54" UNDERLIFT SPECIFICATIONS; Fully Retracted (with Forks)12,000 lbs. Fully Extended (with Forks)8,500 lbs. Extended or Retracted with L-Arms6,000 lbs. Underlift Reach to Center of Fork Holder. At Normal Tow Position 84" Positive Tilt20° Negative Tilt10° Tow Rating32,000 lbs. WINCH RATING & CABLE Rating (first layer of drum) each Winch15,000 lbs. Diameter and Length (each winch)1/2" x 150' Type6 x 37 IWRC STANDARD FEATURES 138" Aluminum (LOW PROFILE CX Body) Modular Body. with 3 Compartments Per SideLanyard Controls for Underlift & Boom. on the Passenger Side Manual Control Station on the Drivers SideChrome Double Action Latches. Dual Hydraulic Pump3 Sets of Lift Forks. Hydraulic Rear Jacks with Flipper FeetRubber Fenderetts. 6,000 lb. L-Arms with Pivoting ReceiversSafety Chains, Door ClosuresTailboard "D" Rings, LED Tool, Compartment LightingFederal Standard 108 Lighting, Cable Tiebacks LED Taillights, Mud Flaps, Clear LED Lights Body. Body Serial # 32121C231589

138" CA CX2/VX Body
Keypad and Wireless Remote (16ton)


Accessories
LED - Flasher Control Power Unit
auto: LED Flasher Control Box
47" Aluminum Tube Pylon
Fork Riser 3212/V30
LED - Flex Lamp Rear Marker Lights (pair)
auto: Work Lights (Pair)
LED - Work Lights - Lower 70MM (Pair)
auto: Work Lights (Pair)
LED - Work Lights - Swivel 90MM (Pair)
auto: Work Lights (Pair)
LED - Work Lights - Underlift (Pair)
auto: Work Lights (Pair)
LED - Work Lights - Upper 90MM (Pair)
auto: Work Lights (Pair)
MCI Bus Lift Eye Attachments (Pair)
Medium Duty Chain Kit
Muncie Hot Shift PTO (MD, HD)
auto: Hot Shift PTO - LD, CC, HD
Pintle Hook / 5th Wheel (3212/V-30/2465/V-24)
Rigging Storage Bar
auto: Snatch Block Storage Kit (Each)
Spacer Kit for Aluminum Tubular Pylon (3")
Spring Lift Adapter (Pair)
Tool Cabinet - 3 Drawer (2016)
Tow Bar Light - 36" - Wireless
U Bolt Lift Attachments (Pair)
Whelen 8 Head LED Light Bar - 60"
Whelen M6 Light Kit - Body (Pair)
auto: LED / M6 Lights (Pair Body Mounted)
Whelen M6V Series Light Kit - Body (Pair)
auto: LED / M6 Lights (Pair Body Mounted)


Installation
3212 / V30 / 1016-GII
Hot Shift PTO - LD, CC, HD
LED / M6 Lights (Pair Body Mounted)
LED Flasher Control Box
Light Bar (LD/CC)
Snatch Block Storage Kit (Each)
Tool Cabinet Install
Work Lights (Pair)


Paint
Black Gloss Finish Paint (LD)
CX/VX Boxes 1 Color To Match Cab

DAA
ACC: Air Hose, 50': (F)7092RMA-600; (W)69711; (G)RR30806
ACC: Air Inflate Kit: (F)68272; (W)68271; (G)61387
ACC: Air Protection Valve 90PSI required when adding air outlets
ACC: Boltcutters, 24"
ACC: Broom & Handle (F)OSB77003+81251; (W)00526CRNM; (G)AME63-15/16X60 + WEI40-25238
ACC: Camera, 7" LCD System HD -System Miller Industries Using ( 2) Camera
ACC: Cone, 12", Single: (F)CN-12R; (W)12"cone; (G)100470
ACC: Fire Extinguisher, 5 lb.: (F)466425; (W)B500T; (G)USA10-22
ACC: First Aid Kit: (F)ACE6060; (W)50503L; (G)20229
ACC: Flashlight with DC Charger, Streamlight LED PolyStinger
ACC: Fuel Can, Diesel, 5-Gallon, Yellow
ACC: Fuel Can, Gas, 5-Gallon, Red
ACC: Jack, 2-Ton Aluminum Racing, AFF
ACC: Lockout Kit, One-Hand Jack Kit
ACC: Lug Wrenchs, 14" Metric/20" Standard
ACC: Pry Bar, 60"/51" (F)AMES1160100; (W)50020; (G)PPB-51
ACC: Shovel (F)AMES1572700; (W)Shovel; (G)Ame73-1564500
ACC: Trash Can, 6-Gallon, Steel
ACC: Triangle Kit
B/M: Bracket Kit, Aluminum, required for all Medium-Duty Wreckers
B/M: Fuel Can/Trash Can Brackets, Deck Mount, GWTE
B/M: Jumpstart/Air Coupler Bracket, Universal
B/M: Trash Can Ring, 4-Gallon, Deck-Mount, Aluminum
BOD: Chain Pocket Guards, WCTE Diamond Plate, Pair
BOD: Mudflap Weights, FSW, Stainless Steel,
LIT: Breaker, 80-Amp, add 1 for each Jumpstart connection
LIT: Jumpstart, Front-Brooking Flush-Mount Kit, with 25' Cables
LIT: PTO Light, LED
LIT: Tow Lights, LED, 30' Cord, Round-Magnet
LIT: Work light- 6" Rectangular LED Work Lamp w/ Amber Strobe ( Pair)
SH: Air Coupler, Front (F) 27808; (W) Auto Coupler; (G) 68237
SH: Air Coupler, Rear (Wrecker) (F) 27808; (W) Auto Coupler; (G) 68273
SH: Shop Supplies
SL: GLOW Lights, Amber, Installed In Channel on Wrecker or Carrier
SL: Strip Lights, 36", Amber/White, LED, Pair, Undercab
SL: Strobes, Amber Grille Lights, ST-6 Super-Thin, Pair, Chrome Bezels, Backing Plates, Wire Harness
TB: Tool box matting Roll Blk. * Partial Roll useage*
TB: Tool box matting or PolyFloor, Installation
TB: Tray, Floorjack, Slide-In
TOW: Chains, Safety, Grade 80 Self-Locking Hooks, Pair
TOW: Flare Case (Case Only)
TOW: Flares, 6 (F)0730(x6); (W)7703605(x6); (G)100783(x6)
TOW: Lumber, 4" x 4"s, 48" & 60"
TOW: Snatch Block, 8-Ton, Yoke
TOW: Strap Kit with Bag, Motorcycle, Wrecker, B/A
TOW: Trailer Ball Kit, Convert-A Ball
WH: Hub Covers, Front, Stainless Steel, Pair
WH: Hub Covers, Rear, 10-Lug with 8.25" Axle, Pair
WH: Lug Nut Cover, 33 mm Front, SS, 2-9/16"
WH: Lug Nut Cover, 33 mm Rear, SS, 2-1/16"